A/C Repair Collinsville, IL
Expert A/C Repair, Service, and Installation for Collinsville, Illinois Residents!
Are your comfort systems not living up to their name? If you're finding that your home or business isn't maintaining the temperature you want it to, contact Dixon Heating and Air Conditioning for quality A/C repair! Dixon is family owned and operated and their expert technicians are dedicated to serving the metro-east. We deliver high levels of customer satisfaction regardless of the size or complexity of the problem. The Collinsville, IL area has trusted us with their heating and cooling needs since 1979. During that time, we've consistently provided excellent service at a fair price. Call our friendly representatives for a consultation of your needs and let us bring comfort back into your life!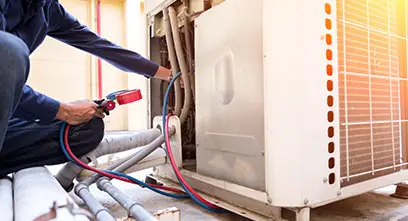 Make Your Home Comfortable Again
A/C Repair Collinsville, Illinois
Dixon Heating and Air Conditioning specialists can tackle any heating or cooling problem placed in their hands. Our well-trained comfort system experts are masters at HVAC repair and maintenance. They are capable of servicing any make and model of furnace or air conditioner. Whether it's a residential or commercial AC unit, furnace, boiler, or heat pump, our staff can diagnose the problem and correct it. Common HVAC problems our experts can tackle include:
Additionally, our crew offers various inspection and preventative maintenance services designed to keep systems running smoothly year-round. Ask us about our Presidential Maintenance Program – explicitly designed to reduce breakdowns and save you money! Also, we also offer duct cleaning services to keep your system blowing clean air. If you need to replace your comfort system outright, we offer the same quality work while utilizing trusted brands such as: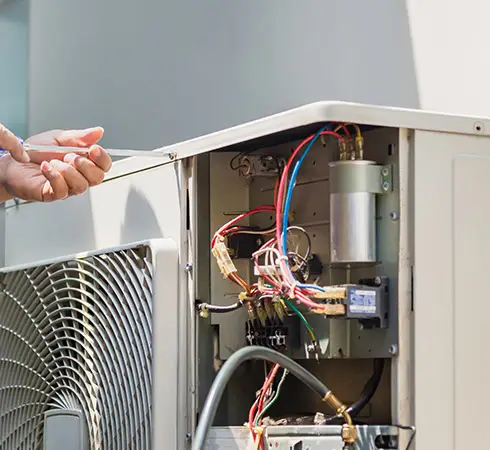 Let us show you why the metro-east trusts their homes with our experts. The Dixon team isn't satisfied with their work unless you are!
Our courteous representatives are available Monday through Friday from 8 am to 5 pm to discuss your HVAC repair or maintenance issues. For customers' convenience, we accept Visa, MasterCard, Discover, American Express, and checks. We're ready to put our skills and industry knowledge to work on your comfort systems. With over 35 years of experience, our service is aged to perfection!
Why Choose Dixon Heating and Air Conditioning?